---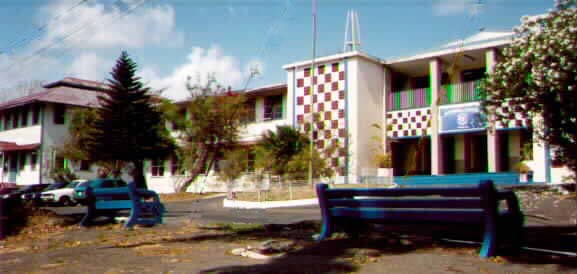 NC ~ April 1998
This was the last year of service for the old 1931 dormitory at far left.
The dormitory had been refurbished as classroom space since the early sixties,
before being taken down in 1999.
To its right, is the 1957 Chemistry/Biology/Physics lab. Further right is the 1959 library and auditorium front.
The point from which this photo was taken was occupied between the 1930's and 1960's by one of three wooden missionary homes,
which were also used in later years for different purposes, such as the HC Girls' Lounge.
The hand-built tower on top of the auditorium is Geography teacher Mrs Matadeen's weather station,
casually assembled, but used for decades.
---

MORE PICS: PIC1 | PIC2 | PIC3 | PIC4 | PIC5 | PIC6 | PIC7 | PIC8 | NC-FOREVER
---