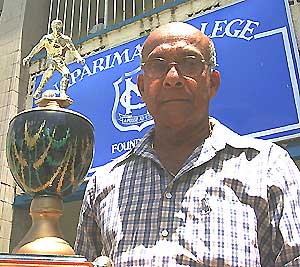 Roy Jagroopsingh, Sports Master, long-time Naps master, and former first eleven student, proudly holds aloft the coveted and hard-won InterCol Soccer Trophy of Trinidad secondary schools. Mr Jagroopsingh passed away in 2009.
For decades, Naparima was outstanding among the school leagues in football (played with the feet), volley-ball, cricket and table tennis. Alas, during my long tenure at the school, we always lost to arch-rival Presentation College in the big final football match of the year, but before that time and since, Naparima has consistently won the southern intercol games.

In the past decade, Naps has been the consistent champion, not just in the south, but nationally.

The old football (soccer) yells....


WHO ARE, WHO ARE, WHO ARE WE?
WE ARE THE BOYS OF N-A-P !
N-A-P-A-R-I-M-A, NAPARIMA!
RAH ! RAH !! RAH !!!


I YI YITTY-KY I YI YIP!!
NAPARIMA, NAPARIMA, RIP, RIP, RIP!!
BUCK UP! N-A-P !!


RATAZAZ, RATAZAZ, ZIM-BOOM-BAH !!
NAPARIMA, NAPARIMA, RAH ! RAH! RAH!
BUCK UP, N-A-P !!